Halifax, Dartmouth, Valley over-represented on doctor wait list
Auditor General's report shows Liberals failing on health crisis
Halifax – New numbers obtained this week by the NDP Caucus show that Halifax, Dartmouth, and Valley residents are more likely to be on the list of patients looking for a family doctor than elsewhere in the province.
"This week, the Auditor General made it very clear that the Liberal government is failing to address the doctor shortage," said NDP Leader Gary Burrill. "The NSHA list to find a family doctor shows this is impacting people across the province."
As of November 1st, 39,965 people were on the government's list waiting for a family physician. In the Annapolis and Kings community health network 5106 people, or more than the population of Wolfville, are searching. While that region makes up about 8.5 per cent of the population of the province it accounts for 12.8 percent of the people on the list.
"Stephen McNeil has repeatedly dismissed concerns about primary care with the claim that it's an isolated problem in a few areas. What the Premier fails to see is that this is a systemic issue affecting communities big and small," said Burrill.
Auditor General Michael Pickup also reported on where in the province doctors are needed. The Western Zone, which includes Annapolis and Kings County, is in need of 10 doctors, while Central Zone, including Halifax and Dartmouth, has 26 vacancies to fill.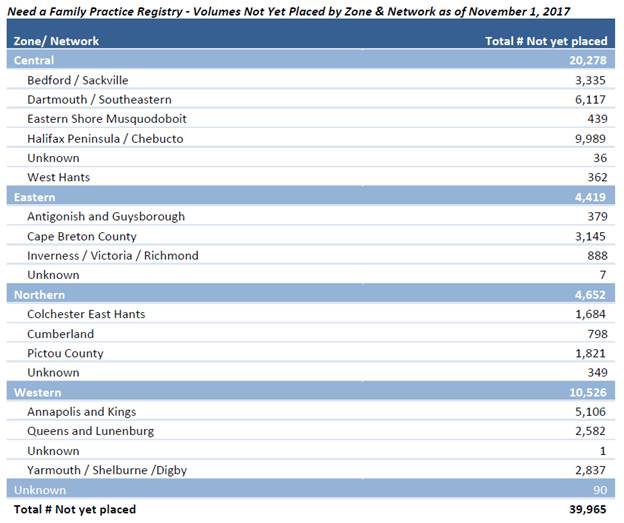 See this month's NSHA report on waitlists for family doctors here.
-30-